Peaberry Pixel Font
A downloadable asset pack
About Peaberry
A clean and bold pixel font family inspired by geometric fonts like GT Walsheim.
Monospaced, regular, and double spaced variants.
Pack also includes 6 bitmap fonts freebies created using Peaberry as a base.
Free to be used for any kind of project. No attribution needed but I'd love to know if you make a game using these fonts.
Font Characteristics
Peaberry is pixel perfect at multiples of 16px.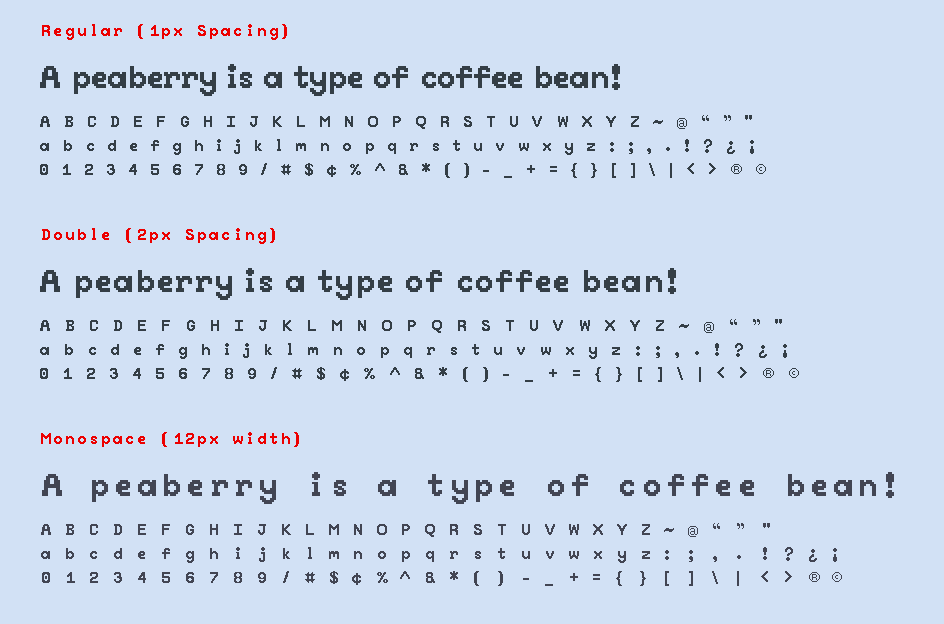 Files Included
Font file formats: .ttf, .otf, .eot, .svg, .woff, .woff2
@font-face demo .html and .css
Bitmap font files: .png, .txt, .xml, .lua, .skf, .fnt (XML and BMFont variants)

NEW – Added bitmap font variant with normal map
GoldPeaberry includes a normal map and texture atlas .json file that can be used to create bitmap text with realtime lighting effects.
Note: for Phaser, use the .xml file instead of .fnt when loading font texture together with normal map
Made with ♡ by Emily Huo
Issues or character requests? Contact me at mlyhuo@gmail.com
Download
Click download now to get access to the following files:
Peaberry-Font-v2.0.zip
11 MB
Comments
Log in with itch.io to leave a comment.
Your game looks awesome!! Love the art/style! I'd love to try it out - feel free to contact me at emhuodesigns@gmail.com
Hi Emily! Loved this font so much! Can use this font in my mobile game?
Really loving the font, it looks great!
I had some issues wth odd letter spacing which took some extra fine-turning on my end, tho.
Thanks for your feedback! Sorry to hear there were issues with spacing - feel free to contact me if there are any specific fixes you want me to make and I can post an update. :)
A = Original Spacing
B = Updated Spacing (1 pixel space before and after each character)


I only edited the lower case letters (in Unity, using TextMeshPro's font asset settings) but I found a lot of them would have uneven spacing leading. It's very apparent around much of the punctuation and thin letters such as "i" or "l".
If you were able to update the font directly, that would be wonderful : ) 💜
I LOVE this font! I was looking for a pixel font to use in my game and came across this and instantly fell in love. I feel like it matches my game's aesthetic. Thank you for creating this!
Glad you liked it! I'd love to see your game when you're finished. Best of luck on your project!
Amazing fonts! Thank you for this.